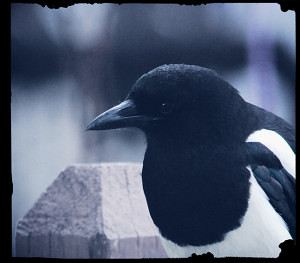 One of our local magpies here in Edmonton, Magnus E. Magpie, also known as Mr. Yegpie (YEG being the airport code for Edmonton), usually haunts Twitter as the magpie personality @YegMagpie, where he tweets about corvids (particularly magpies), and shares stories of his life as a bird. For this, Yegpie has generously stepped away from Twitter for long enough to provide a tweet-length cawmentary on each contribution to Scarecrow.
As you'd expect from a corvid, Mr. Yegpie's cawmentary is clever and boisterous; he takes delight in preening, pecking at shiny bits, and occasionally cawing over indignities. I'm delighted to share with you his bird's eye view of the stories and poems in Scarecrow.
While none of Yegpie's cawmentaries contains explicit spoilers, they are mean to be read after the story or poem they reference so if you haven't yet read Scarecrow, I'd suggest doing that first.
In the following weeks I'll also be running a series of short interviews on my blog, but not just any interviews. In these, Mr. Yegpie is interviewing the contributors of Corvidae and Scarecrow!
---
Mr. Yegpie's Cawmentaries
Scarecrow Hangs by Jane Yolen
Things that scare me: witchcraft, fertility rituals, elder gods, Wicker Man island, this poem.
Kakashi & Crow by Megan Fennell
Corvids and scarecrows, together at last, sort of! This almost felt like a chapter in Gaiman's 'American Gods.' Actually if this was a whole book I would totally kek it out of the library. Bonus points for shinies.
The Roofnight by Amanda C. Davis
Oh, oh, the wonderful, straw-dry, funny, twisty scariness of it all! Great shades of Wicker Man and Futurama!
Skin Map by Kim Goldberg
I love Vancouver, but am now too creeped-out to fly around Stanley Park and the seawall ever ever again.
A Fist Full of Straw by Kristina Wojtaszek
That's the saddest thing about romance, you can't pick who you love.
Judge & Jury by Laura VanArendonk Baugh
I like this author, she knows a lot about corvids and gives us full credit for our intelligence and nastiness! A great sequel.
Waking From His Master's Dream by Katherine Marzinsky
Aww, this was beautiful and sad spec fic. Even the scarecrow being scared of crows. Family is so hard to run from.
The Straw Samurai by Andrew Bud Adams
What a wonderful fairy tale! My favourite in the anthology. We corvids always cheer for underdogs.
Black Birds by Laura Blackwood
Ooh, nothing worse than a beautiful, rude magpie. I love the local content, too. And a sort of happy ending! (Even I couldn't cheer for the corvids in this one!).
Edith and I by Virginia Carraway Stark
What really scares me about scarecrows is that I can't tell if this is a zombie horror story or not. Like, how alive ARE those things, really?
(Note from Rhonda: I thought this was a love story. Funny how Magnus and I landed on totally different ends of the spectrum there.)
Scarecrow Progressions (Rubber Duck Remix) by Sara Puls
Definitely both a love story and a horror story, no question!
Truth About Crows by Craig Pay
Wow, this was a great alternate universe! Reminded me of Caw-r Wars. I appreciate that no actual corvids were scared in this story.
Two Steps Forward by Holly Schofield
That's what I like to see! Scarecrows aren't always sad or scary!
Only the Land Remembers by Amanda Block
Crows get a really bad rap no matter what form they take, it seems. What a deep, powerful story.
If I Only Had An Autogenic Cognitive Decision Matrix by Scott Burtness
INAPPROPRIATE RESPONSE, SCARECROW.