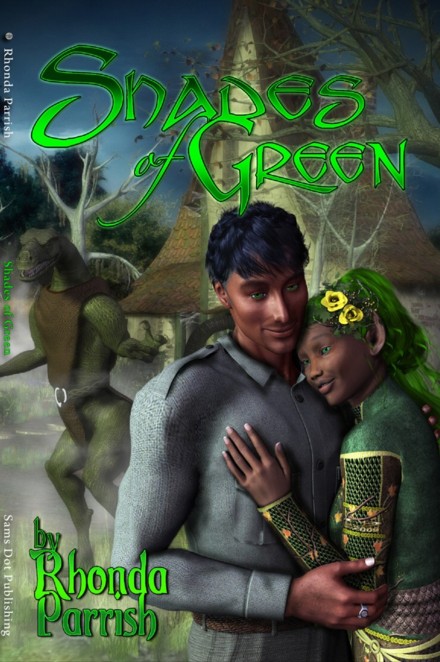 Z'thandra, the last swamp elf in Aphanasia, lives with the Reptar, a fierce race of lizard-people, most of whom resent her presence and want her gone from their village. When she discovers a human in the swamp and falls in love with him she must face the most difficult decision of her life. Will she pursue a life of happiness with the man she loves and in doing so condemn the Reptar to extinction, or will she chose to sacrifice her future to offer them hope? In the end the choice she makes will affect the Reptar for generations.
"Straight fantasy has to be really good to hold my interest. "Shades of Green" is absolutely excellent! Among the best fantasies I've read, a tale that unfolded smoothly and drew me in from the start. You'll find yourself sincerely concerned for young Z'thandra and her plight. Parrish is one talented writer!"
-Marge Simon, Stoker winner, VECTORS: A Week in the Death of a Planet, 2008.
Reviews:
~  Amber Stults, Book Reviewer ~ Book Reviews by Aubrie ~ Imperfect Clarity ~ A (biased) Reader Reacts ~ The Way I See It ~ Coffee Time Romance ~ The Fickle Hand of Fate ~ Alternative Read ~ Spoilers and Nuts ~ Carole's Book Corner ~ ChrisChat Reviews ~
Originally published as 'Shades of Green' by Sam's Dot, this story was re-released as 'A Love Story' in the collection of Aphanasian stories I have cleverly titled 'Aphanasian Stories'.