Xavier has just escaped from Scholar, a mad man who held him captive and performed torturous experiments on him. Colby is a young lady from far away who is on a mission to save her brother. Armed with little more than their wits, Colby and Xavier team up and struggle to escape Scholar's men and recover the magical artifact that will save Colby's brother before it's too late.
"Rhonda Parrish's descriptive and action-packed prose grabs you by the hands and doesn't let go. This is the kind of story that's so good you clutch right back because you don't ever want it to end."
– Carrie Jones, New York Times Bestselling author of NEED
"With this wonderful novella, Rhonda Parrish plunges us into a fascinating new world populated with engaging characters, strange races, and a dark, shadowy villain. A wonderful fantasy from a gifted storyteller."
– Lee Moan, author of The Hotel Galileo
Reviews
~ Imperfect Clarity ~ Flying With Red Haircrow ~ The Deepening ~ Book Labyrinth ~ Double Shot Reviews ~
Credits
Story: Rhonda Parrish
Podcast: Bill Ratner
Cover Art: Darek Zabrocki
Cover Design: Jonathan Parrish
Originally this novella was released, one chapter every other month, right here on this blog as both text and an audio book. As of January 15, 2013 it is no longer available here but has been re-released shortly as a part of a collection of Aphanasian stories titled, creatively enough, Aphanasian Stories.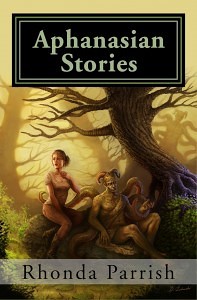 Available at:
Amazon.com (Physical and ebook)
Amazon.ca (ebook)
Also available on other Amazon sites, just search for 'Aphanasian'.