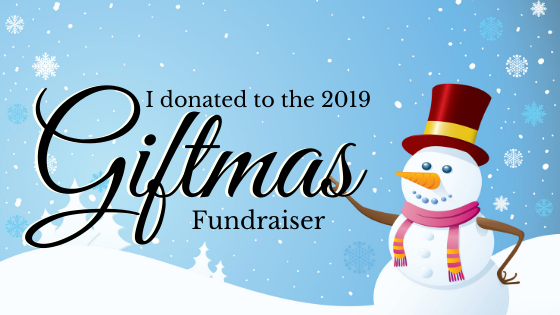 Every year I organise a fundraiser to benefit the Edmonton Food Bank. And every year I'm asked, "Why the food bank?"
The story I usually tell is about how the food bank helped make our Christmasses a bit more merry when I was kid and my mother was a single mother of three struggling to make end meet on a waitress's salary. Because it's a good story, and a true story, and I can add a little joke to it because of that one time we found caviar in the food hamper. Which, to  child-Rhonda, was the very epitome of 'rich' and also 'gross'.
But the more I tell that story the less comfortable I am sharing it. Because though that is my story, it's more my mother's story. And I'm not sure she'd be 100% happy with me sharing it quite so widely.
My mother was a proud woman, and like it or not, there is still a stigma attached to receiving help from the food bank.  There shouldn't be. But sometimes there is.
Unfortunately, my mother passed away some years ago so I can't ask her permission to share her story.
But I can share mine.
When I was 22 or 23 and  my daughter, Dani, was very young, I was a single mother. We were living in small town Alberta where I was going to school full-time (thank you Athabasca University) and working full-time as a waitress to make ends meet. Money was tight (mostly because of the exorbitant costs of internet service in rural Alberta at that time) but we managed.
Then Christmas came.
Even though I was able to cover all our needs eleven months of the year, that twelfth one was a doozie. Not only because of the costs of putting presents under the tree, but also getting the tree, and the decorations, and the food to put a feast on the table, and, and, and…
So I applied for a Christmas hamper from Family and Community Support Services. And got approved.
And that meant I would have a turkey, and a whole bunch of trimmings, for Dani and I to feast on for the holidays. And beyond the holidays because that bird was huge and we were only two people — one of whom was like 2.
It meant I was able to buy her all four of the Teletubbie dolls secondhand off Ebay and not just one of them.
It meant one fewer thing I needed to stress over, and that is an amazing gift for a young, struggling, single mom. I promise you.
And I chose to support the food bank every year because I want to pass that gift along.
So far this year's fundraiser has raised $1,180 (or 3,540 meals) but it's open until the end of the day, so there's still time to tick that number up a little bit.
Every dollar donated is equal to three meals, so every dollar counts. Every one.
If you can give a little, please do: