Together we raised $1,380 for the Edmonton Food Bank. Because of their incredible bulk buying power and the infrastructure they have built up over the years that money equates to 4, 140 meals.
4,140 meals!
Just take a second to breathe that in.
4,140 meals. Because of you.
Thank you!
Whatever role you played to help make this happen — blogger, donor, signal-booster, cheerleader — thank you.
Our best year yet.
Oh! And also? I have prizes to give away.
The first winner of the snowman drawing contest, as chosen by the bloggers is Megan Fennell for this lovely: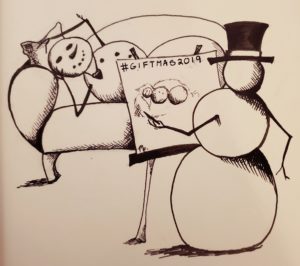 And the randomly drawn winner from the contest is this one by Scarlett Van Goethem: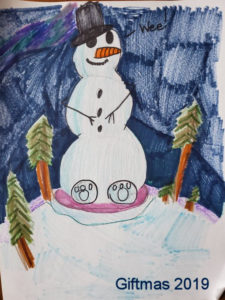 I really enjoyed the snowman drawing contest and I may do it again next year with a couple small tweaks.
There is one more prize to give away. The winner of the Rafflecopter prize. That person is Elizabeth D.
I have contacted all the prize winners by email, so if you see your name up there and haven't heard from me, please check your spam filters.
One final note. Something weird happened late yesterday where the fundraiser was simultaneously open and closed:
I don't actually know what happened there, but I DO know that a $25 donation was made directly to the food bank after that happened which was meant to go through our fundraiser. That is why our final total here is different than the final total on the fundraiser page.
Congratulations and thank you once again!
Can't wait to see what we do next year! 😉